8 tags
"If you're using frequency as a tactic to make up for the fact that..."
–  Seth Godin
5 tags
"Do you realize that all great literature is all about what a bummer it is to be..."
– Kurt Vonnegut
5 tags
"If you have a job where someone is telling you exactly what to do, they can find..."
– Seth Godin (Behind the Brand interview on The Icarus Deception)
4 tags
"Traveling-it leaves you speechless, then turns you into a storyteller."
– Ibn Battuta
1 tag
"Instead of wondering when your next vacation is, maybe you should set up a life..."
– Seth Godin
3 tags
4 tags
"Charitable giving has remained stuck, in the U.S., at two percent of GDP ever..."
– Dan Pallotta, TED talk http://www.ted.com/talks/dan_pallotta_the_way_we_think_about_charity_is_dead_wrong.html (via hustletobefree)
5 tags
"I truly believe that people are looking for stories that really mean..."
– Scott Harrison, founder of charity:water, from this amazing interview on The Great Discontent. (via jarrettfuller)
1 tag
"Come then, and let us pass a leisure hour in storytelling, and our story shall..."
– Plato
4 tags
"I have the greatest job in the world. "Move people by being moved."
– Jodie Foster (not a direct quote) What a great way to think about doing storytelling well. Do the stories that you tell move you first?
4 tags
4 tags
"Cheap is not marketing."
– Seth Godin (All Marketers Are Liars) (definitely the opposite of the 4Ps of marketing that all marketing students learn about in college, including me.)
4 tags
"Do one thing everyday that scares you."
– Eleanor Roosevelt
"Until recently we've only been able to speculate about story's persuasive..."
– Why Storytelling Is The Ultimate Weapon | Co.Create: Creativity \ Culture \ Commerce (via wildcat2030)
"The story-from Rumplestiltskin to War and Peace-is one of the basic tools..."
– Ursula K. Le Guin
1 tag
"Storytelling reveals meaning without committing the error of defining it."
– Hannah Arendt (via taylorbooks)
8 tags
4 tags
"Humans simply aren't moved to action by "data dumps," dense PowerPoint slides,..."
– - Jonathan Gottschall, author of The Storytelling Animal: How Stories Make Us Human from an article in Fast Company - Why Storytelling Is The Ultimate Weapon (via betterstorytelling)
4 tags
4 tags
2 tags
Make Me Care
You can't force me to care. Yelling louder isn't gonna do it. Bribing me won't work. Neither will threats. Make me care! Speak to my heart. Help me tell my own story better. Tell me something I already believe.  Bad marketing yells at you. Good marketing speaks to you.
7 tags
"When was the last time you did anything 100%?"
– Chef Gordon Ramsay (Kitchen Nightmares, Season 3)
4 tags
Understanding New Things
In order to really understand water, you have to be immersed.  Photo credit: Pierre Winter What other way is there? Reading a swimmer's first-hand description? A scientist's definition? Watching film of the ocean? All of us know this wouldn't quite do. Putting yourself right in the middle of something new is the best way to understand it. Understanding will not happen...
7 tags
Not About A Shark
Jurassic Park is not about a dinosaur amusement park gone wrong. Signs (by M. Night Shyamalan) is not about aliens. LOST is not about a plane crash on a mysterious island. Jurassic Park is about control, the limits of science, and how nature is uncontrollable. Signs is about a man rediscovering his faith. LOST is about flawed people looking for redemption. Everyone loves a good story. It...
4 tags
I am a writer.
Today, I wrote. Yesterday, I wrote. This makes me a writer. Some of the writing made sense. Some didn't. Doesn't matter. Some was put in front of public eyes. Some got erased from this post (a few times). All of it was worth the time and effort.  That's just part of it. Lots of practice. Lots of tinkering. Art, not science.  Tomorrow, I will write again. And I'll press...
4 tags
6 tags
Two ways to get attention
I saw this on Facebook on December 24th: Although this is just a friend having a little fun, brands and companies do this very thing everyday. Here's how it works: there's usually a way to force your message in front of people. Find it and abuse it. This technique takes many forms. Keyword stuffing. Spamdexing. Those little annoying bots that spam you on Twitter with bad links. ...
6 tags
4 tags
5 tags
Change is the Only Constant
Remember when Internet Explorer ruled the world? IE used to come preloaded on most PCs sold. Eventually on almost every computer, Internet Explorer was the undisputed browser champion.  No longer. I just saw a commercial on television for Internet Explorer. Chrome and Firefox are snapping at IE's heals. So, which things do you assume will never change? Let's get the easy ones out...
8 tags
4 tags
The Balance of Chaos and Order, or Diving Into the...
Creativity is always messy. Writing is chaotic and inspiration can be spontaneous. Ideas come and go when they wish.  Building things that matter is hard. This will never change. In an effort to balance the chaos, I sometimes need things to be in order. Things that I can control. I clean my house. Straighten the books on my shelf. Make lists and throw away clutter. If both worlds are in...
4 tags
Four Things I Learned From Taking Strengths Finder
Intentionally learning more about yourself can bring out many emotions. Excitement. Revelation. Fear. More questions. Direction. Anxiousness. Contentment. I think I probably had a dose of each after finally taking the Strengths Finder test recently. What did I learn? Photo credit: Bilal Kamoon (Creative Commons) When I read received the results of the test complete with my top 5 strengths,...
3 tags
One Thing
This week, do one thing you don't normally do. When you're presented with an opportunity to make a choice and think, "I never do that," then do it. You should do it. Remind yourself that life has options and possibilities and new things to learn. Tweet ]]>
3 tags
Pinterest is Freaking Me Out
I had dinner and dessert over at a friend's house (married couple) the other night. When it came time for dessert, she excitedly pulled out her latest creation: peanut butter chocolate ice cream cups. She had seen the idea on Pinterest. This is huge for social media. Huge really isn't a big enough word. Do you know how long social has been written off as an imaginary,...
3 tags
Who has to get it right the first time?
Wedding cake decorators? Commercial crab fisherman? Explosive ordinance removal officers? Even all of the people in these jobs get to practice (a lot) before they are expected to perform. Sometimes, the thing that stops us from action is perfectionism. Thinking that we have to be as perfect as someone disarming a bomb. Rarely the case. We've got a fear of getting it wrong. No one ever...
3 tags
"The only way to do great work is to love what you do."
– Steve Jobs
5 tags
A blog on creativity
Wanted to pass along a great blog, Jeff Goins' Writer, that I've been reading lately. It's all about writing, the creative process, and passion. Here are three recent posts that I found helpful and inspiring: "The Productivity Secret of Professional Writers" "How to Fall Back In Love With Writing" "What an Angry Flight Attendant Taught Me about...
1 tag
Writing More
I've been feeling guilty lately about not writing more on this blog. I'm a huge believer in writing - and writing a lot. It clears your mind. It helps you understand yourself and the world. It connects you to cool people. Writing is the way to stop suffering from writer's block (we never suffer from "talker's block," do we?). I believe in the importance of...
6 tags
"When others write about people who live on the edge, who challenge their..."
– Paul Farmer (co founder of Partners In Health, from the book Mountains Beyond Mountains)
3 tags
Do More Than Communicate
Almost everyone learns to speak. Daddy, mommy, dog, banana, friends, play, what, where, idea, feel, right, wrong  Many learn to communicate. "I'm hungry." "I wish you wouldn't look at me that way." "How do you feel right now?" "Here's our new idea on how to improve this process." And some learn to story tell. "I have a...
5 tags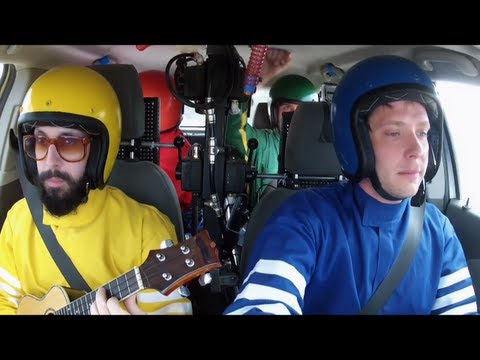 3 tags
"The greatest danger for most of us is not that our aim is too high and we miss..."
– Michelangelo
4 tags
Trip to Haiti (Part 4): Meals on Heels
I struggled for a long time on how to write this 4th post about my trip to Haiti. I didn't know how to share the story I wanted to tell - I still don't. How do you talk about such a multifaceted, emotionally rich, and strikingly profound experience? I saw poverty. The kind we've all seen on our television sets in a commercial asking for money with the dirty kid standing in...
4 tags
Trip to Haiti (Part 3): TOMS
Do you have these ones in size 9? Ummm…I can check. So, first pair or you looking for a replacement? Replacement. Just got back from Haiti - the last pair didn't make it back. I was actually with a group that got to do a few shoe drops there. Wow - what was that like? (Do you know Blake or something?) Do you have any pictures? Yeah, I actually do. So cool! I've donated 9...
4 tags
Trip to Haiti (Part 2): The Sea Was Angry That...
Why did we decide to do this? Was coming out on this small sailboat really worth it? During my recent trip to Haiti, there were many times I had to stop and ask why. Our overall trip purpose was clear, but when it came to certain situations we found ourselves in, I asked questions. Were we just looking for adventure? The opportunity for a story? The chance to say we're tough? I climbed on...
6 tags
Trip to Haiti (Part 1): My Mind Blown
I'm sitting in a room full of several miniature tables and chairs surrounded by 15 small hungry Haitian toddlers. It's meal time and my mind is about to be blown. You see, the food sitting in front of each kid was packaged by the organization I work at in Minnesota. Let's back up a little. I work at a nonprofit headquartered in Minneapolis called Feed My Starving Children...
4 tags